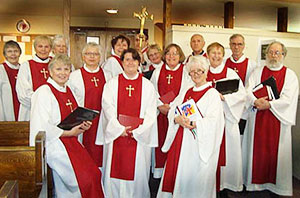 At St. Mark's we love to sing! Music is an integral part of the 10:00 a.m. Service.
Every Sunday, one of our strong cantors leads the congregation in the singing and usually leads the psalm. Once a month a praise band, known as "One in the Spirit", which consists of two guitarists, one violinist, a keyboardist, a flutist and two vocalists, leads the 10:00 a.m. service. The music is varied, drawing on sources from Anglican and Lutheran hymns as well as and contemporary praise songs. Our Special Occasion Choir comes together for services such as Easter, Thanksgiving and Christmas.
During each worship service, depending on the hymn/song or liturgy, the organist uses both the organ and keyboard. A variety of instruments are also used, often including saxophone, flute, pipe organ and electric keyboard.
Hymns/songs are taken from both the Lutheran ELW and Anglican Common Praise Hymn books (both of which are in the pews for those who like to have the music) and all words are projected onto the large screen at the front.
Make a joyful noise with us!